New dog(s) added 12.01.2022
PLEASE CLICK ON THE DOGS NAME BELOW FOR THEIR STORY
***APPLICATIONS MUST BE PRINTED/COMPLETED & MAILED IN WITH APPLICATION FEE***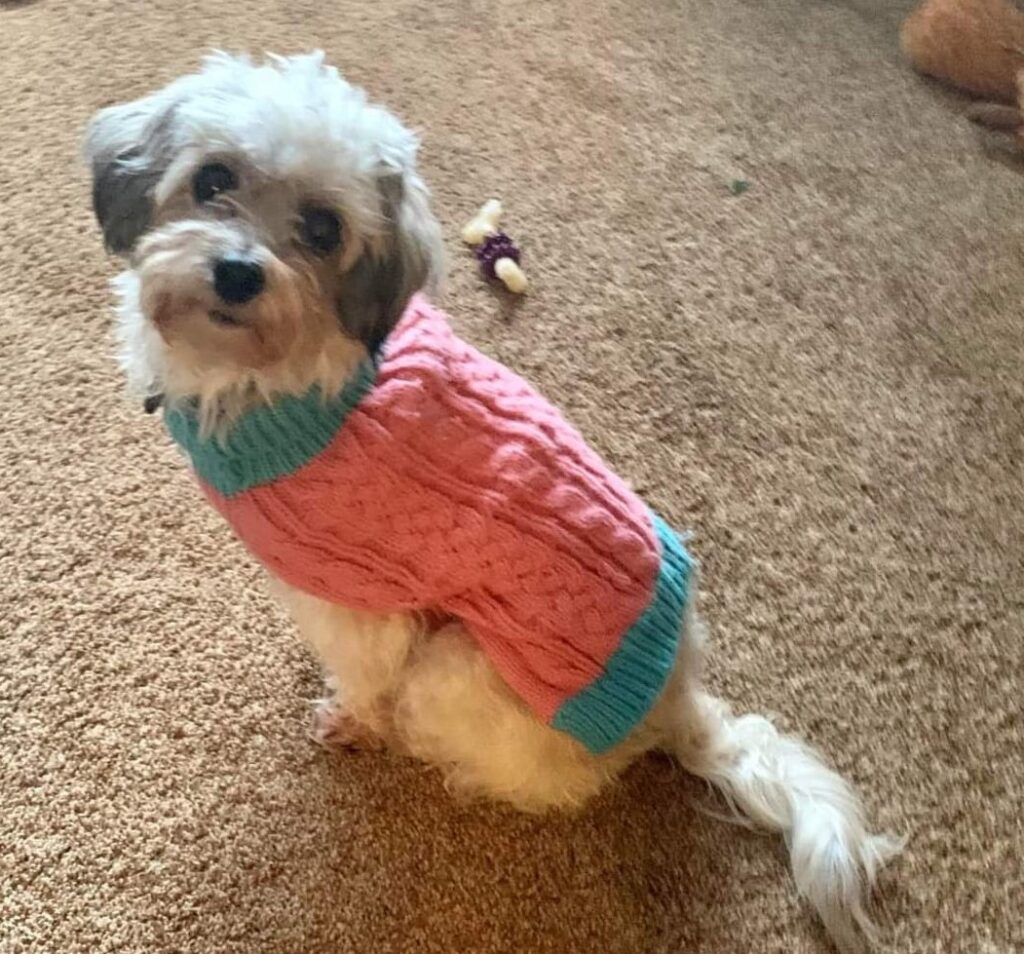 Located in Appleton, Wi. Meet pinky, she is about 4-5 yrs old, a Shih Tzu Malt mix, and weighs about 10 pounds. She has been thoroughly vetted, Spay, dental, microchipped, and all shots are current. She has a lot of energy, so needs an active family to be part of.
Pinky is doing well on her housetraining in the short time she has been in rescue. Pinky loves attention and will do her best as an only dog. Please call for more information Mary 262-800-3323. You will find the application to adopt on our website Http://northcentralmalteserescue.org
***APPLICATIONS MUST BE PRINTED/COMPLETED & MAILED IN WITH APPLICATION FEE***
LOCATED IN THE WESTERN SUBURBS OF CHICAGO: Ricky is an adorable 4-year-old Shih Tzu. He is dog friendly, loves car rides, and would prefer to be with people 24/7. Ricky is 12 lbs and fully vetted with all his shots, neutered, microchipped, and had a dental. In his dental, he did have 11 teeth removed, most likely from biting on a wire crate. We would ask he not be crated in his new home. If Ricky's not on your lap, he's looking for squirrels. He's prey driven and quick! Ricky is a talented escape artist who will need someone with a fenced yard and who is very cautious with doors. You will find the application on our website Http://NORTHCENTRALMALTESERESCUE.ORG Call Mary after you have submitted your application at 262-800-3323. ***APPLICATIONS MUST BE PRINTED/COMPLETED & MAILED IN WITH APPLICATION FEE***
Located in Fremont, Wisconsin, My name is Tito, and I'm looking for a special someone to spend Christmas with. I may not be winning any fetch competitions with all the Gen Z dogs out there, but I will definitely win over your heart with my mad snuggling skills; experience has to count for something nowadays. If you have had insecurities with men in your past relationships and love having your special someone stalk you and follow you everywhere, including the bathroom, then I will just be the guy you have been looking for.
In the past, I have not been very good at picking the right person to be in a relationship with and have wound up with some real doozies over the years! One of them took advantage of me, and I somehow ended up with a gimpy back leg, but I'm still crazy fast for an old guy.
So now here I am at 10 years old as one of the oldest eligible bachelors that this rescue at this time. That being said, as an older gentleman, I do have some issues that a lot of us older men have; I still know when I have to go to the bathroom, but most days, I end up dribbling a little pee on myself, so I wear a very discrete little band around my waist, so I don't dribble on myself (Seriously who wants to be the stinky old guy who smells like pee) My heart is a little off too, the Doctor says it "murmurs," but I don't have to take any medicine for it and far as I'm concerned when it comes to the ladies my heart still goes pitter-patter just fine.
If you are looking for someone to watch Hallmark Christmas movies with while snuggling on the couch and having a nighttime snack, we just may be the perfect match. If so, please let Mary know, and just maybe we can get together. 262-800-3323
***APPLICATIONS MUST BE PRINTED/COMPLETED & MAILED IN WITH APPLICATION FEE***
Maggie is a cute 11-month-old Poodle/Shih Tzu mix who is just as sweet as can be.
Maggie was unable to be cared for and surrendered to Milwaukee Animal Control.
Milwaukee Animal Control then asked NCMR to help her find her forever home, so now she is in her foster home, hoping next time goes better.
There was nearly an adoption, but Maggie was afraid of the young children, so the adoption did not take place. Maggie came to us a little thin, with lots of mats on her curly soft, silky black coat. She weighs about 10 pounds, but she is gaining weight because she loves to eat! She will likely weigh about 12 to 13 pounds.
When Maggie arrived, she was very cautious and fearful, all the while holding her tail under her back legs.
She carefully came to foster mom for little bits of food held out by hand. Within 24 hours, she followed mom everywhere, wagging her tail and being playful. She chases toys. She sleeps in our bed at night.
Maggie enjoys sitting on your lap to be brushed and held.
She is getting the hang of going outside to go potty. She still has some accidents, but we put down puddle pads, and if she can't get outside, she is starting to use the pads.
She walks nicely on a leash and enjoys going for walks but tends to be cautious with unknown dogs and people. We left her for a few hours with the other dogs in the house, and she did fine; no chewing or damage. She is ok home alone for a few hours a day.
We believe she was in a not-so-great situation before she came to us, but she is making progress by the day. We thought there could be permanent behavioral issues, but really, she has come a long way in a short time, so we believe she will be a well-adjusted little girl going forward. She wants to be with someone all the time, but with trust and confidence, she will be fine. Maggie is spayed and up to date on her vaccines, has beautiful clean teeth, and is healthy. Maggie would do best in a home with adults and another young dog to play with.
If you want to adopt a really adorable girl who will love and worship you, get your applications into Mary Palmer with Northcentral Maltese Rescue. 262-800-3323
***APPLICATIONS MUST BE PRINTED/COMPLETED & MAILED IN WITH APPLICATION FEE***
Located in Fremont, WI.  My name is Honey, and I am a 7-month-old Lab/Schnauzer mix and weigh 40 pounds. I have been in my foster home for a couple of months now and have learned so much!
I am house and crate trained; I also know will come and sit when you call my name. I get along great with all of my foster brothers; 2 of them are big dogs, and 2 of them are little dogs. At night I love to sleep in bed with my foster Mom and Dad, and if I have to go potty at night, I will let you know. One of my favorite things to do is play outside with my foster Brother, I am super-fast and have a lot of energy! When I am in the house, I like to lie down and chew on bones. There is a cat at my foster home, and I am not too sure yet if I really like him and I chase him sometimes, but I listen when my Foster Mom and Dad tell me, "No" I have all of my vaccines and have been spayed so now all that I need is to find a family to call my own. If you want a cute scruffy dog like me to be part of your family, please call Mary at 262-800-3323.
***APPLICATIONS MUST BE PRINTED/COMPLETED & MAILED IN WITH APPLICATION FEE***
By the time our dogs are ready for adoption, our foster parents have had time to evaluate them and determine their needs for a new home. We have created an Adoption Process that will ensure a smooth and safe transition from our rescue to your family. Our number one priority is to make sure our Maltese go to the best possible forever home.